Portrait Photography Worcestershire.
Families, Couples, Makeover & Boudoir Photography We want to create the very best pictures you have ever seen of yourself.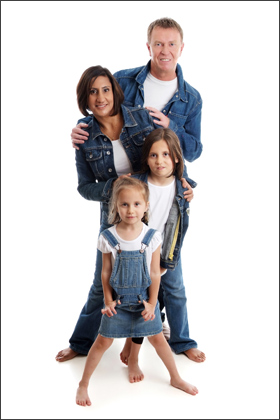 When I started our Worcestershire Portrait Photography business way back in 1998 I wanted to concentrate just on taking portraits. With my initial passion for portraiture I went on to hold an exhibition of portraits I created of well known Worcestershire movers and shakers for my " Faces of the Millennium Portrait Exhibition " at the Guildhall in Worcester City in 1999. The exhibition was a huge success and went on to raise well over £8,000 for St. Michael's Hospice in Worcester.  Many of these were environmental portraits, which I still enjoy, but my real passion has always been for high end, fine art style, studio portraiture with darker backgrounds, multiple lights and reflectors or sometimes with just a single light.
My wife Jane joined me full time in 2007 and working together we create most of our teenager and family portrait sessions with contemporary clean white backgrounds, though recently we are having more requests for our darker and more traditional backgrounds and formal smart dressed family photography. With the emphasis always on fun, emotion and natural expressions. We often have to work quickly whilst keeping the interest and energy going throughout a shoot particularly with younger children. We also offer our bright colourful urban backdrops which prove very popular with many clients particularly those wanting casual or funky style images.
We take portraits of families, children, couples to grandparents and every one in between. Sometimes the whole family turns up, you can see some of our family groups in our family portrait gallery We welcome family  groups upto 7  people with children 4 and over. We offer single shot wall art and canvas hangings or muti print frames. So what ever you have in mind we will be able to produce natural and creative portraits you will be proud of and want to keep on your walls for many years to come.
So originally I offered just portraits and makeovers, though quickly I was tempted down the wedding route and found I really enjoyed the emotion and excitement of the big day but now nearly 400 weddings later we have stopped doing weddings altogether. We now follow my original dream of just offering portrait photography Worcestershire with our renowned Makeovers, Boudoir photography, Headshots, Physique photography all proving very popular too.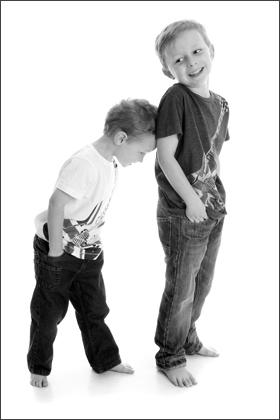 Forget all you have heard about stuffy, boring portrait photography sittings. We specialise in relaxed, natural and contemporary portrait sessions. After all you want the shoot to be FUN and the results to be just terrific! We'll spend from 20 to 40 minutes on your studio portrait session, rarely is any longer needed. We work at our professional, fully equipped, relaxed and comfortable studio built in our home in Kidderminster, or occasionally on location.
We love working with people, we keep everyone CALM & HAPPY to create and capture those special smiles and expressions. We only use FUJI digital cameras for the best skin tones and a fabulous array of professional lighting. We have completely upgraded our studio over the last year and now have the studio I have always wanted with all the lighting I need at arms reach. After your shoot we will edit and prepare your pictures for viewing, turning some of them into Black and White or adding a variety of other different effects. We usually ask you to come back a few days later after your shoot to view your pictures in our VIP BIG Screen viewing room. We treat all our images to first class airbrushing for blemish removal, gentle skin softening and retouching. You will view your pictures in colour, black and white or sepia. If you just can't choose a selection of favourites for an album or a special shot for the wall, you can buy all the shots to view as a video slide show for your PC, Tablet or smartphone. We also offer our very popular Screen Res Files of every image from the shoot for Your PC's and Digital Photo frames or the increasingly popular Printable Files USB pack containing every image from your shoot ready to print to whatever size you like as often as you want.
A portrait experience gift voucher makes an ideal present for any member of the family and we will very pleased to make a special personalised gift experience voucher for you to send or give as a present.
So what exactly does this wonderful experience all cost? Well we think you'll agree a picture you'll love and treasure forever is priceless, but to capture it at Sammy Southall Photography we think you'll find is extremely good value.
The Portrait Photography Experience, viewing and your first 7 " x 5 " folder print is £50.00 ( Worth £85 )
See our top value Selection Deals Here at your viewing of course you will have the opportunity to buy extra print Framed prints, Canvas Wall art and Digital files on USB sticks. Also have a peep at our facebook page to see our latest work and reviews.
For Portrait Photography Gift Vouchers CLICK HEREThe times of our lives will change – but a special family portrait will last forever."
See our Boudoir Photography on our " Only Boudoir " Website . Also  bridal boudoir a special service for brides to be wanting an unique and unexpected wedding day gift for their husband. At Only Boudoir we create a superb little black Boudoir Book with 12 sensual and exciting images as the perfect gift for your partner, husband or husband to be to be on your wedding day. You can also visit our new specialist black and white boudoir photography site Boudoir Midlands