No More Wedding Photography, But … … …
After the Wedding Photography by Sammy Southall Photography.
We covered nearly 400 weddings in Worcestershire and the West Midlands before deciding to stop covering " On the day " Wedding photography and concentrate on our Makeover, Boudoir, Portrait and in studio photography.
We still offer our no rush after the wedding " Art and Fashion Style Wedding shoots "  These can be done sometimes a year or so after your wedding day. This is often ideal if you didn't have a professional wedding photographer at your wedding or got married abroad or just want some special romantic or edgey, fashion art style shots of just the two of you. We can take you down by the river and canals, on a farm, in the woods or the hills – you name it.
We have done several of these on location after the wedding shoots and they are always fun – We offer the shoot and an amazing Coffeee table style 20 page Wedding Art book for Just £750 – you can add makeup and hair styling by our professional makeup artist at only £60.00. she will also be happy to help with styling the shoot.
Have you though about a Bridal Boudoir Photography session?
It's the perfect Wedding day gift for your groom.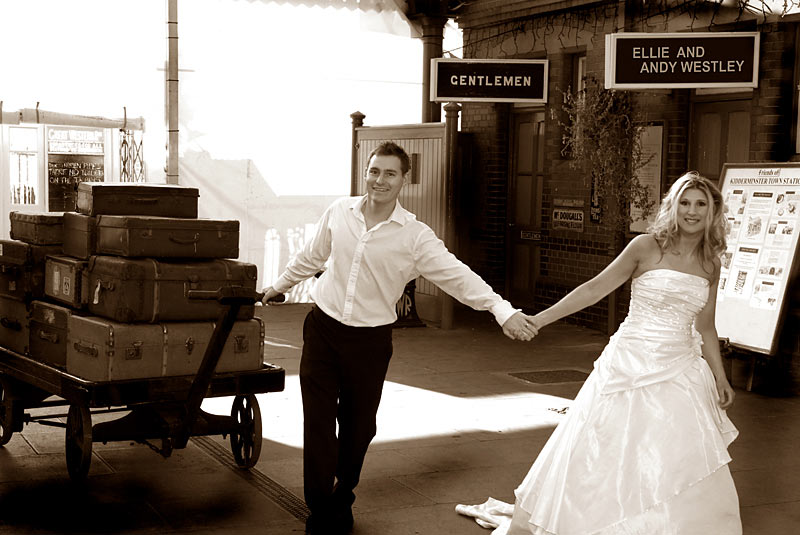 Firstly lets say that for most brides its NOT about "Trashing The Dress " it's about creating some fabulous, arty, unusual, more creative, fun and fashion style Wedding Photographs in different or unusual locations that you wouldn't get to go to on your wedding day.
This trend has swept the United States and Australia and is growing in popularity in the UK. It doesn't have to be all that extreme; it's just a chance to use your wedding dress again ( before having it cleaned and boxed away) and in ways you would not have dreamt of doing on the day, to create truly stunning wedding pictures
For years wedding photography has been a bit restricted by where a Bride is prepared to go and in her very special dress on the big day itself. We frequently hear brides after their wedding say that they wish they had been a bit more adventurous with their dress on the day and then couples complaining about the huge cost of cleaning the dress and packing it away in a posh box. Well now here is an alternative, where we go out on location with the Bride and Groom up to a year or so after their wedding and take some real fun, sensual, sexy, and fashion driven shots, before the dress gets cleaned and put away!!!
Are you ready to get one more fabulous use out of your wedding dress?
A fabulous fun way to create some amazing wedding style images you will treasure forever.