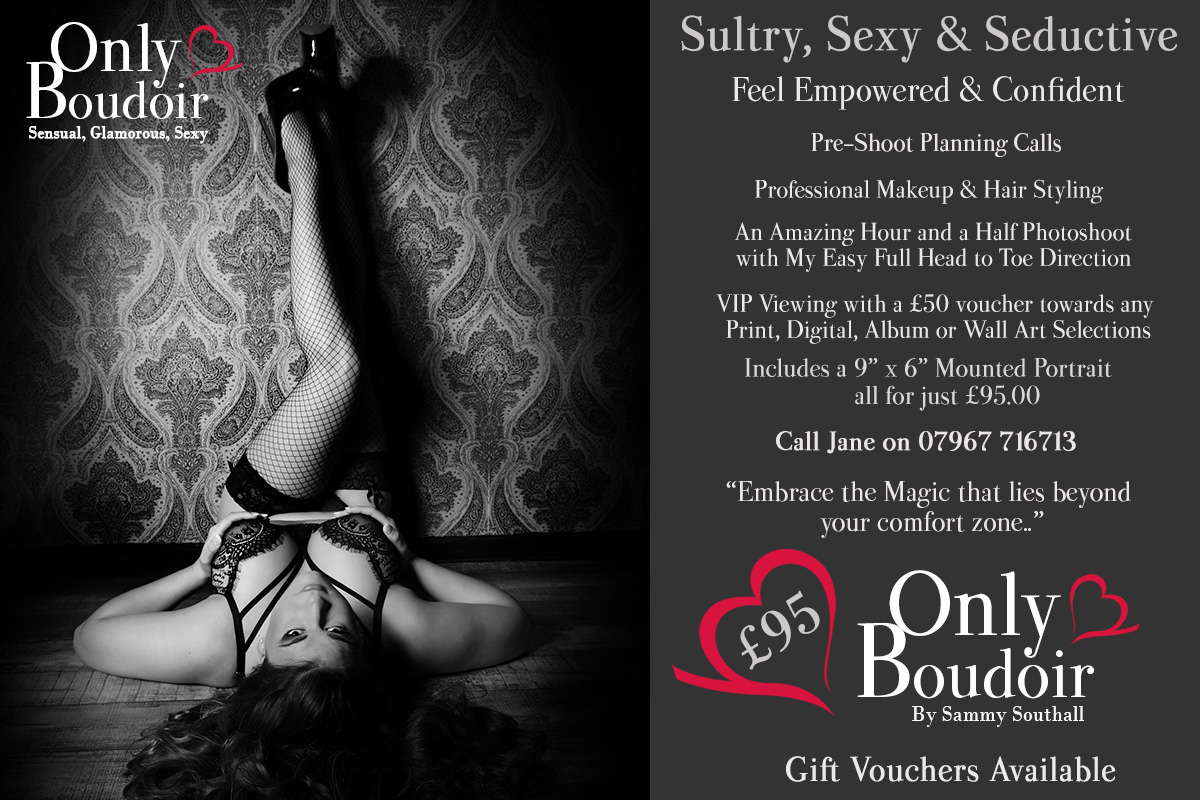 If you are looking for the finest Boudoir Photography West Midlands from one of the Midland's Most Experienced Boudoir Photographers you are in just the right place.
Here at Sammy Southall Photography, we have two Boudoir Brands. Only Boudoir is our original Boudoir photography website serving West Midlands boudoir photography clients since 2005 and Boudoir Midlands which specialises in classic fine art style Black and white Boudoir photography.
We shoot Boudoir Photography clients throughout the year and there are always peak times like the run-up to Christmas, and January with vouchers bought as presents and ladies looking to create Valentine's day gifts. We take the shoot and view on the same day, because who wants to wait to see their amazing images? If you are looking for a gift for a specific date it is best to allow at least 2 weeks to get your gift prepared.
Over the last 5 years, we have concentrated more and more on Boudoir and have seen a real surge in demand for our Boudoir Photography shoots. As always the age group is wide and the reasons that people decide to treat themselves and push their boundaries are varied.
So who is looking for boudoir photography? It is young ladies looking to boost their confidence, it is ladies who are getting married soon, it is ladies who are recovered from surgery,  it is older ladies some finding themselves on their own again, others finding new partners and wanting to expand their horizons. There are so many reasons we hear as to why ladies choose a boudoir shoot but the things that they all agree on is that their boudoir shoots have been life-changing, confidence-boosting, empowering and transformative. Have a look at our over 100 FIVE STAR Google reviews
So if you would like to do something just for you, something that will undoubtedly give you a real boost of confidence and make you feel good about yourself, something virtually guaranteed to give your mood a lift in these more challenging times then let us take the most awesome, sexy and powerful images of you that you have ever seen and get yourself booked in for one of our boudoir photography shoots perfect for ladies from anywhere in the West Midlands. Every shoot is bespoke, designed just for you, we help you with your clothing choice, and we are more than happy to help you create a mood board of the style of shots you would like to recreate and happy to work with your ideas.
Our Boudoir Photography session offers this amazing shoot which includes full style and makeup consultation, professional makeup and hairstyling a two-hour fully directed photo shoot, same-day VIP viewing and a complimentary 9″ x 6″ print all for just £95 We will produce a selection of images that you will probably fall in love with and want to buy and treasure forever. Most clients invest between £395 and £795 on their final boudoir photography order for our Little Black Books, Coffee table albums, Digital Selections or Framed and Canvas Wall Art.
This is a wonderful experience and although there may be a few nerves beforehand it will be one of those things you will always be so pleased you have done.
For fabulous Boudoir Photography West Midlands, Birmingham and Worcestershire – Call Jane today on 07967 716713 to find out all about it and get booked in.
As well as our Classic Boudoir photography take a look at our Bright and Light Boudoir it is romantic and very sensual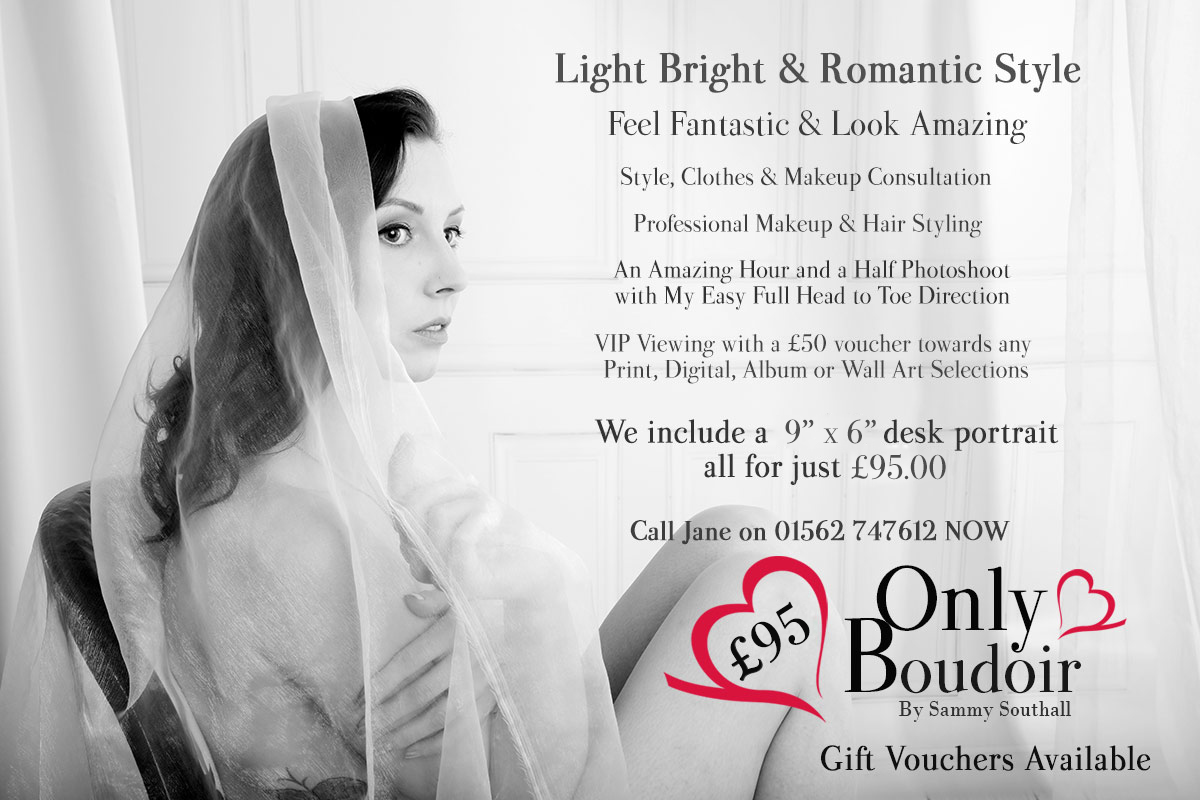 https://sammysouthallphotography.co.uk/wp-content/uploads/2016/03/sammy_southall_photography_logo_2016a.jpg
0
0
Sammy
https://sammysouthallphotography.co.uk/wp-content/uploads/2016/03/sammy_southall_photography_logo_2016a.jpg
Sammy
2023-09-21 09:00:35
2023-10-07 08:03:31
Boudoir Photography West Midlands